I had never honestly considered this question before until I read the article "A Billion Tons of Nickel" by Chad Orzel (In case you were wondering his article was inspired by a previous article of mine: A Floating City on Venus). The author brings up a good point: What advantage would mining the asteroid belt really have? After reading his article I honestly could not come up with a reason off the top of my head. I had just assumed it would be a great thing that one would jump at the opportunity to take advantage of.

He made an excellent point questioning the economic viability of such a mining operation:

Absent some project that requires vast quantities of whatever you can mine out of the rock, the main effect of this would seem to be a global crash in the price of whatever you can mine out of the rock. At which point, I don't know how your recoup your investment. This is barely Economics 101-- if you have a billion tons of nickel sitting around, and nothing to do with it, the price will be very low. We've done the experiment, after all-- ask the Spanish about all that New World gold...
Frustrated that I could not find a good answer quickly enough I decided to a little research and here is what I came up with:
He's absolutely correct. Though the article is missing the true incentive to asteroid mining. The key to asteroids are that they have a relatively high proportion of precious metals such as platinum and those in the platinum group. On top of that they also contain many other metals in high demand such as aluminum, copper, and titanium among many others. Here is a
chart
of the approximate composition of a C-type (Carbonaceous) asteroid (including potential values per metric ton in dollars). According to the chart platinum contains roughly 1,000 parts per billion in a typical C-type asteroid. This equates to about 2,000 metric tons in a one kilometer diameter asteroid or approximately $50 billion worth of platinum. Albeit the price of the metal would drop as more metal is introduced into the market but nowhere near the catastrophic affect that Chad proposes with the mining of nickel. This is simply because platinum is in very high demand and an exorbitant amount isn't being introduced. The other metals I mention could also conceivably be very profitable though likely not to the same extent.
Image of C-type asteroid 253 Mathilde. Source: NASA.gov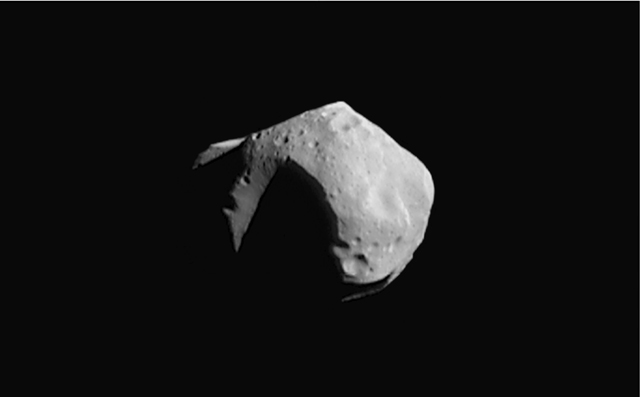 Now the situation he describes with the introduction of Aztec gold is a bit different than platinum. During that time gold was primarily sought after for its beauty and luster alone. Platinum on the other hand is used in jewelery
and
industry--especially in electronics. This should further resist a collapse in the metal's economy and perhaps increase the economy overall. Even a drastic price drop in platinum wouldn't be so bad. One can simply look at the history of
aluminum
. Aluminum used to be worth more in weight than gold. Then in 1886 a young engineer from Oberlin, Ohio named Charles Martin Hall invented a new method of extracting aluminum that eventually made it cheaper to obtain by a factor of 200. Clearly the economy wasn't ruined by an over-abundance of aluminum. This is because aluminum was rare in pure form but had many potential uses. The case is very similar for platinum.
At the end of his article he also left us with this:
(And circular arguments like "We need a billion tons of nickel to build space ships to mine the asteroids/ colonize the moons of Jupiter/ fly to Alpha Centauri" are cheating.)
And though the space enthusiast in me really wanted to justify mining the asteroids with this I knew he was correct; we have to be realistic and know how the world works. I believe I've addressed the incentive to mine the asteroids without using this cheating circular argument though. Thus since we have created a market for going to the asteroid belt we can now fairly use this argument! Because with the advent of mining operations we will indeed create a whole new 'space market.' Sending materials up into space is costly (currently around $12 million per metric ton). This means that billion tons of nickel now has a new purpose--building those spaceships to mine the asteroids. So, while gleaning materials to build ships that can mine the asteroid belt or to build colonies is not the initial reason to mine the asteroid belt it is a natural progression and soon
does
become an incentive in itself.
For more information on the potential of mining asteroids I suggest reading through these two sites:
Asteroid Mining for Profit
(chart came from this site)
and
PERMANENT
Also, if anyone has any counter-arguments or questions I would definitely like to hear them. I tried to stick to the main points to maintain the brevity of this post so I'm sure there is still much to discuss if anyone is interested.
Related Articles: